India is holding a key G20 summit in Illegally Occupied Jammu and Kashmir (IIOJK) amid heightened security and opposition from China. After China, Turkey, Egypt, Indonesia, and the Kingdom of Saudi Arabia also 'decided' to skip the G20 summit in picturesque Srinagar of IIOJK.
The Indian efforts have suffered a major blow as a number of G20 countries have either refused to attend a tourism moot scheduled or skipped registration to attend the three-day gathering starting Monday will take place at a sprawling, well-guarded venue on the shores of Dal Lake in Srinagar.
Mushaal Hussein Mullick video msg calling for Complete Boycott of G20 Conference in IIOJK &urging public all over the world especially Pakistanis&Kashmiris to protest against Modi's fascist policies illegally occupying Kashmir &inviting public to join her in a protest rally in… pic.twitter.com/5Ljpc8THKY

— Mushaal Hussein Mullick (@MushaalMullick) May 21, 2023
Turkey has consistently leaned towards Pakistan on the Kashmir dispute and the country has also raised the Kashmir issue at international forums.
Turkey brought up the issue in the United Nations General Assembly and the Organization of Islamic Cooperation (OIC), urging the international community to play a more active role in finding a solution and addressing the human rights concerns in Illegally Occupied Jammu and Kashmir (IIOJK).
Along with G20 members, representatives from a number of international institutions and guest nations have also been invited. India invited Egypt but the Middle Easter country has skipped the registration process of the G20 summit.
Also, Saudi Arabia and Indonesia also did not participate in the G20 summit.
The Himalayan territory of Kashmir is the cause of a dispute between India and Pakistan since their independence 75 years ago. The two nuclear powers – who claim it in entirety but rule over parts of it – have fought two of their three full-scale wars over the territory.
Pakistan's stance on G20 summit
Pakistan's Ministry of Foreign Affairs stated: "We have seen news items appearing in the Indian media indicating that the Government of India might be contemplating holding some G20-related meeting/event in the Indian Illegally Occupied Jammu and Kashmir. Pakistan completely rejects any such attempt by India."
G20 nations are visiting #Kashmir! When are you? Incredible INDIA!🇮🇳 #KashmirWithG20India pic.twitter.com/qJrspbJWbV

— Aditya Raj Kaul (@AdityaRajKaul) May 20, 2023
"As is well-known, Jammu and Kashmir is an internationally recognized "disputed" territory between Pakistan and India. The territory has been under forcible and illegal occupation of India since 1947 and this dispute has remained on the agenda of the United Nations Security Council for over seven decades. India is responsible for widespread atrocities and egregious human rights violations in IIOJK."
'Since India's illegal and unilateral actions of 5 August 2019, Indian occupation forces have killed 639 innocent Kashmiris in extra-judicial murders. Numerous reports of the UN, including the two commissioned by the Office of the High Commissioner for Human Rights (OHCHR) in 2018 and 2019 have re-confirmed ongoing Indian atrocities against the Kashmiri people."
Cleaning up for the G20. pic.twitter.com/KwdcPoxYYC

— naresh fernandes (@tajmahalfoxtrot) May 21, 2023
"Most ominously, India has been seeking to change the demographic structure of the occupied territory in flagrant violation of relevant UN Security Council resolutions, international law, and the 4th Geneva Convention.
"Contemplating the holding of any G20 related meeting/event in IIOJK, in utter disregard of the globally acknowledged "disputed" status of the territory, is a travesty that the international community cannot accept under any circumstances.
China stayed away from the G20 meeting in Arunachal Pradesh and in tomorrow's G20 meeting in Kashmir, China, Turkey, Saudi Arabia, & Indonesia are likely to be absent. Modi's diplomacy is limited to camera, Twitter, and WhatsApp only.

— Ashok Swain (@ashoswai) May 21, 2023
"The only way to lasting peace in South Asia is by granting the people of the Indian Illegally Occupied Jammu and Kashmir their inalienable right to self-determination as pledged to them in the relevant UN Security Council resolutions," the statement reads.
Cleaning up for the G20. pic.twitter.com/KwdcPoxYYC

— naresh fernandes (@tajmahalfoxtrot) May 21, 2023
"Kashmir turned into Guantanamo"
Former Jammu and Kashmir Chief Minister Mehbooba Mufti has accused the Modi government of turning Kashmir into the 'notorious' American military prison, Guantanamo.
"To tell you the truth, if you visit Kashmir today you will see that the place which was converted to an open-air prison (following the abrogation of Article 370) has been converted to 'Guantanamo'… Even houses have been taken over. Homes have been taken over. There is three-, four-, five-tier security… Everything at homes is being turned upside down," Ms. Mufti said.
The G20 meeting might give some kind of publicity for the BJP, but a South Asian Association for Regional Cooperation (SAARC) meeting can help address the problems of the region, she said. "Why not have a SAARC summit and address the problems we (the people of Kashmir) have?" Mufti questioned.
China has decided to boycott the planned G20 Tourism Working Group meeting in Jammu & Kashmir which is scheduled to take place from 22-24 May in Srinagar. China, which is among the closest ally of Pakistan has asserted that it is "firmly opposed" to holding such meetings in the… pic.twitter.com/lDc8mDwNWG

— The Tatva (@thetatvaindia) May 21, 2023
Schools around the routes that G20 delegates will use have been closed. Military bunkers, a common sight in Kashmir, have been covered with G20 banners to hide them from view.
Residents have chafed under the stepped-up security measures, hundreds have been detained in police stations and thousands, including shopkeepers, have received calls from officials warning them against any "signs of protest or trouble".
This is the biggest international event organized in the region since India scrapped its special status in 2019.
Over 60 delegates from G20 member countries are expected to attend the event.
China, however, has said it will not attend, citing its firm opposition "to holding any kind of G20 meetings in the disputed territory".
Both India and Pakistan claim Kashmir in full but control only parts of it. The nuclear-armed neighbours have already fought two wars and a limited conflict over the region.
Special treatment for common public during #G20 in Kashmir. Private cars not allowed inside Srinagar airport. You gotta walk all the way out or else hire a separate taxi. I chose walking for good health! 😜 pic.twitter.com/qHncFL1wie

— Aditya Raj Kaul (@AdityaRajKaul) May 21, 2023
In April, Pakistan had criticized India's decision to hold the meetings in Kashmir, calling it an "irresponsible" move.
India, however, said that it was "natural" to hold G20 events and meetings in "Jammu and Kashmir and Ladakh, which are an integral and inalienable part" of the country.
In 2019, the Bharatiya Janata Party-led federal government had divided the Muslim-majority state of Jammu and Kashmir to create two federally-administrated territories – Jammu and Kashmir, and Ladakh. Ladakh is a disputed frontier region along the Line of Actual Control (LAC) between India and China, and both countries claim parts of it.
https://twitter.com/pk_economy/status/1660221297966694401
Over the decades, opposition politicians, activists and locals have also accused successive Indian governments of human rights violations and stifling of freedoms in the restive region.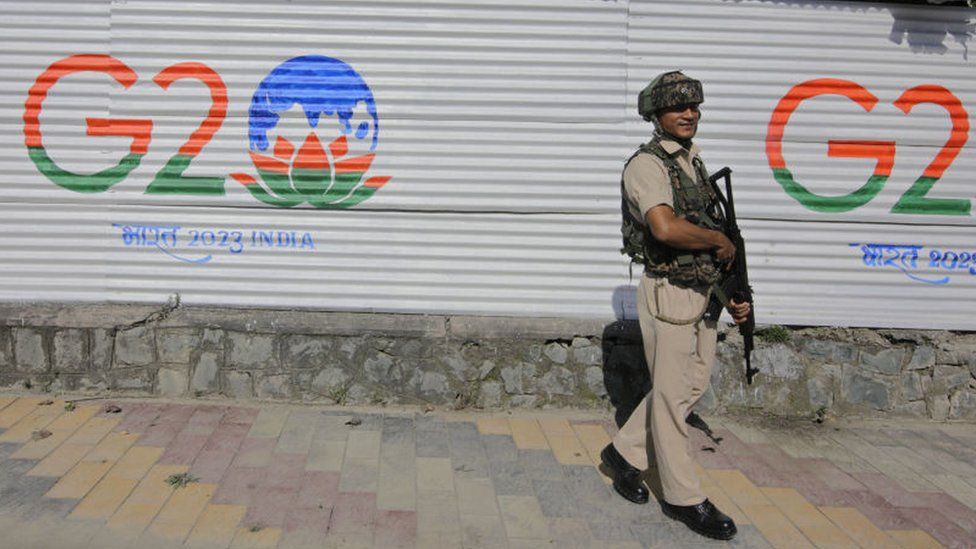 The G20, which includes the world's 19 wealthiest nations plus the European Union, accounts for 85% of global economic output and two-thirds of its population.