Gervonta Davis, the World Boxing Association's lightweight champion and one of America's most prodigiously gifted young athletes, is the type of homegrown talent with a rags-to-riches backstory, crowd-pleasing style and unvarnished authenticity that makes US television executives water at the mouth.
The west Baltimore native came up the hard way through abject poverty, foster care and group homes, learned to box under the trainer who inspired the character of Dennis 'Cutty' Wise in The Wire and became the sport's second-youngest world champion at just 22 years old. Since then, he's moved the needle like few other US prizefighters in recent memory, capturing versions of world titles across three different weight classes and selling out arenas from coast to coast. A southpaw endowed with concussive power in both hands and a granite chin, Davis is unbeaten in 29 professional outings with 27 knockouts, his status as a crossover attraction only climbing with each successive fight. When his sixth-round TKO of Rolando Romero broke the live gate record at Brooklyn's Barclays Center last year, Madonna watched from ringside.
So far Davis's shimmering brilliance inside the ropes has been enough to relegate a disturbing pattern of allegations – that he is a violent, unrepentant domestic abuser – to the margins of his narrative. But that bubble of impunity was finally punctured last month when he pleaded guilty in a Baltimore circuit court to four counts stemming from a hit-and-run crash in November 2020 which left four people hospitalized, including a pregnant woman. After the judge overseeing the case rejected a plea deal that would have allowed him to serve 60 days of unsupervised home detention, Davis faces the real prospect of jail time at his sentencing on 5 May. All it took was a little prick.
If this were any other sport, Davis would be barred from competing. But because it's boxing, which exists on the margins of decency and insists on living down to its tawdry reputation with its shameless tolerance for criminality, he's squaring up for an eight-figure payday in the biggest fight of the year.
On 22 April at the T-Mobile Arena in Las Vegas – less than two weeks before his potential incarceration – Davis will meet Ryan Garcia in a scheduled 12-round bout at a catch-weight of 136lbs in one of the most significant matches that can be made in boxing today. For once the promotional bluster rings true: two hugely popular undefeated knockout merchants in their early primes, represented by warring companies and broadcasters, putting aside their differences to make the fight the public wants and their beleaguered sport desperately needs.
Perhaps it's that very desperation, stoked by the looming prospect of Davis's imprisonment, which motivated both sides to get the negotiations over the line and secure their respective bags. No one admitted as much on Wednesday afternoon when the fighters came together in Times Square for the opening leg of a bicoastal media tour to drum up publicity for the contest, but the 24-year-old Garcia did hint at it when asked about the conspicuously abbreviated eight-week build-up for a fight of this magnitude. "You've seen megafights as well that have longer stretches of promotion," he said. "You know, this is quite quick. We're about six weeks out and this is our first press conference, you know? When I've seen things in the past, it's been longer, so I feel like it's rushed, just maybe a little bit [because] of his personal issues."
Davis, who turned up nearly two hours late on Wednesday to promote the biggest fight of his career, left most of the talking to his younger foe, dissing Garcia as a sort of apple-polishing company stooge for the sin of arriving on time. Unsurprisingly, his legal troubles went unaddressed during the moderated news conference.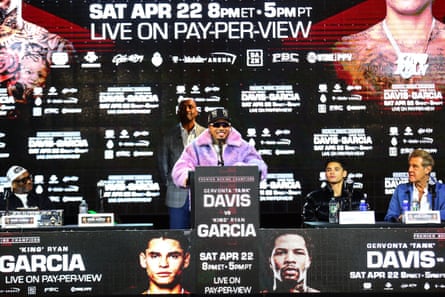 Athletes in America's most popular sports like football, basketball and baseball are punished harshly for their off-field misdeeds, either through suspensions or the loss of endorsement deals. Just ask Ja Morant, the budding NBA superstar who is taking an open-ended leave of absence ​​from the Memphis Grizzlies after flashing a pistol on Instagram last weekend.
But fighters are so rarely held to account for even graver offenses, a problem inherent in the sport's free-wheeling power structure. Boxers are independent contractors and the absence of a central governing body means any form of discipline would have to come from the networks and the promoters, who have a direct financial interest in a fighter's ability to generate revenue. Any of the individual athletic commissions which sanction the sport on a state-by-state basis could put their foot down and deny a fighter the license required to fight in their boundaries, but there will always be another state waiting with open arms to deliver a big-ticket event, and the economic impact it brings, to their backyard.
Same goes for the networks, in this case Showtime, which has made no small investment in broadcasting Davis's past 10 fights either on premium cable or on pay-per-view. They are a publicly traded company answerable to their shareholders. They want to be responsible, but they also want to remain in business.
Whether Davis should be allowed to fight next month for a career-high payday after Jyair Smith's stomach-turning testimony – that Davis "looked me in the eyes, and he never came over to help" as she was trapped with her unborn child inside a smoking vehicle while screaming that November morning – is immaterial. There is simply no incentive for anyone in boxing to take a strong disciplinary stand when it's been proven time and again that any stigma does nothing to compromise a fighter's market value. In fact, many boxers have been rewarded in the immediate aftermath, essentially profiting off their notoriety. Floyd Mayweather Jr, who mentored Davis in the early stages of his career before their public falling-out, was handed a then-record $250m contract from Showtime and CBS only months after serving a 60-day sentence for a domestic abuse conviction in 2013. Maddeningly, to promote his first fight under the deal, Showtime televised an hour-long infomercial, produced by Mayweather, which reframed his incarceration as an obstacle to be overcome on the comeback trail.
Truth is, the same power brokers who dress boxing up as the biggest sport in the world for a couple of nights a year are more than content to have it spend the rest of the calendar in the shadows, where incidents like those dotting Davis's rap sheet barely make the news and can be glossed over during the next money-spinning promotion. So once the commission has passed off the responsibility to the network, and the network has passed it off to the consumer, the whole enterprise is dependent on the public's willingness to look the other way.
In the end Davis will be enriched but also disserved by a system that can't help but make enablers of its stakeholders. Nothing will change unless the fans demand it: by tuning out. And that, depressingly, may be longest shot of all.