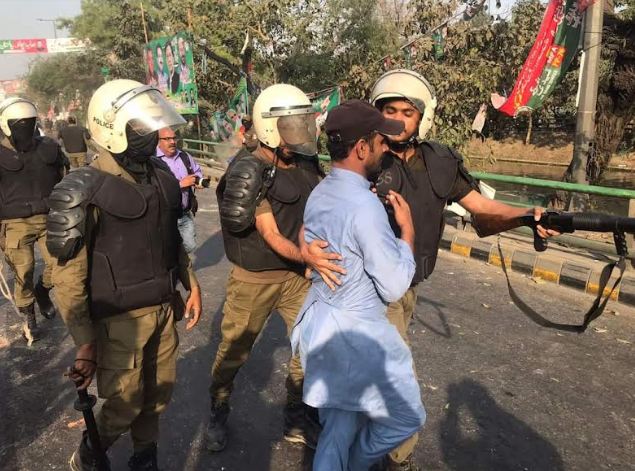 For the past 18 hours, police were firing tear gas at the house as the 70-year-old opposition leader's supporters hurled rocks and bricks at the officers. The upscale area of Zaman Park where Khan lives was under siege since Tuesday. The government was sending additional police to tackle the situation after hundreds of Khan's supporters showed unexpected perseverance.
Early Wednesday, Khan emerged from his house to meet with his supporters, who faced tear gas and police batons the whole night to save him from arrest. He said he was ready to travel to Islamabad on March 18 under his arrest warrant, but police did not accept the offer.
The confrontation outside Khan's house continued.
About a dozen police and some 35 of Khan's supporters were reported injured. Tear gas shells and pieces of bricks littered the pavement as Khan's followers fought back with batons they had brought to resist police, who were preparing for a final effort to arrest Khan.
Khan, who was ousted in a no-confidence vote in Parliament in April, was ordered to appear before a judge in Islamabad on Friday to answer charges of illegally selling state gifts he had received during his term as premier and concealing his assets.
The former premier has avoided appearances before the court since November, when he was
wounded in a gun attack at a protest rally
 in the eastern Punjab province, claiming he was not medically fit to travel from Lahore to Islamabad to face indictment.
Khan has claimed that the string of cases against him, which includes terrorism charges, are a plot by the government of his successor, Prime Minister Shahbaz Sharif, to discredit the former cricket star turned Islamist politician.
'Ready to go to jail'
In a video message released in the afternoon, Imran Khan while sensing the inevitability of his arrest advised his supporters to continue the struggle for "real freedom" regardless of his "arrest or death".
Later, in an interview with BBC Urdu released after midnight, Mr Khan referred to the attempts to arrest him – for which he was ready – saying that it seemed the alleged promises made to Nawaz Sharif by the establishment were being kept.
According to the former premier, he did not understand why the establishment and the army chief were "backing the PDM government" even though it was damaging the reputation of the state institution.
He added that the PDM would not last a single day without the crutches of the establishment. The ex-PM said there were no attempts to get in touch with the current top brass of the army, adding that doors for talks were, however, always open.
"We saw on the news that the police were coming to arrest me," the PTI chief said, but noted that he was all but prepared for his arrest. "I am all mentally prepared that I am going to spend my night in a cell and I don't know how many nights. I am all prepared for that. But I think they are determined [this time] and they want me behind bars," he said.
"I had taken protective bail till March 18 and there is no point as to why they came to arrest me on March 14," he said in response to a question about him not following the law of the land.
Mr Khan said he was prepared to go to jail and for the day-to-day operations of the PTI, he had formed a committee of party leaders.
New vigour
The call issued by Imran Khan apparently gave new vigour to his supporters since more and more activists thronged Zaman Park, where the party chairman was holed up in his house.
The local leadership, which was criticised on social media for its failure to mobilise workers, also rose up to the task and moved its workers who quickly outnumbered the police.
As the faceoff with the police continued both sides continued to resort to violent means to break the impasse. But it seems, for now, the PTI has pushed the police back.
The stick-wielding and stone-pelting workers added another weapon to their arsenal at nightfall – petrol bombs. These bombs set police vehicles alight, particularly the primary weapon i.e. water cannons.
As both sides stuck to their guns and the day started wearing out, police also expanded the scope of the operation and called the Rangers for help and added a helicopter for air surveillance. It also switched off the internet facility and electricity around Zaman Park littered with teargas shells and remains of burnt tyres. By the time this report went to press, the police were on the move for another push.
As this crisis continued to unfold, former US envoy Zalmay Khalilzad tweeted that the attempts to detain Imran Khan would only "deepen" Pakistan's political crisis as he called for some "serious soul-searching".
On Tuesday, Sharif told Pakistan's Geo television that Khan's arrest was ordered by a court, and it was not political victimization.
"We will arrest him, and will do it on a court order," Shahzad Bukhari, deputy-inspector general of Islamabad police, told reporters earlier in Lahore. Later, Bukhari was also lightly injured in the violence and received first aid from police medics at the scene.
However, Shah Mahmood Qureshi, a top leader from Khan's Pakistan Tehreek-e-Insaf party, said the government was trying to disrupt law and order by sending police to Khan's house.
"We are ready to find a middle way through talks with police, but we should know what the purpose of today's police raid is," he said. "Don't worsen the situation. Let us sit and discuss what you want," Qureshi asked the police.
He said Khan could consider voluntarily offering his arrest, "but let us talk first."
Fawad Chaudhry, another senior party leader, said Khan's legal team was in the process of submitting a request to the Islamabad High Court to have warrants against Khan suspended. Khan's lawyers were also legally challenging the warrants before another Islamabad court Tuesday.
From inside his home, Khan urged his followers to fight on even if he is arrested. "They think this nation will fall asleep when Imran Khan is jailed," he wrote on Twitter. "You need to prove them wrong."
Police said reinforcements were on their way to Khan's house to bring the situation under control.
TV footage showed tear gas shells falling inside Khan's house.
Angered over the expected arrest of Khan, his supporters took to the streets across Pakistan, blocking some key roads near Islamabad while asking the government to refrain from arresting Khan.
"We will arrest this man on the court order and he ran away to avoid arrest," said Interior Minister Rana Sanaullah Khan, who is not related to the former premier. He said Khan will be produced before the court.
Protests across the country
The events in Zaman Park did not escape the notice of Mr Khan's supporters across the country, and several cities saw protests by PTI workers.
In Islamabad, at least four policemen were injured and over two dozen supporters of the former ruling were detained after protests erupted in several parts of the federal capital, resulting in logjams across the city.
On the call of Imran Khan, the supporters converged in multiple cities across Punjab to express solidarity with their party chief. Agitations were reported in Gujranwala, Hafizabad, Mandi Bhauddin, Sialkot, Narowal, and the adjoining districts of Lahore, including Sheikhpura and Kasur.
Similarly, the PTI workers also took to the streets in Sahiwal, Okara, Sargodha, Multan, Muzaffargarh, Bahawalpur, DG Khan, Rawalpindi, and Faisalabad. There were reports of some minor scuffles between the police and the PTI supporters.
A large number of PTI workers and supporters also took to the streets across Sindh, particularly Karachi, to stage demonstrations at more than a dozen key road links and traffic intersections.
Though the protests remained largely peaceful and only caused traffic jams across Karachi, sporadic incidents of violence were reported where the police used teargas and baton-charge to arrest the PTI workers.