Go First, the ultra-low-cost airline in India has cancelled all of its flights for the next three days due to the grounding of approximately half of its fleet, and filing for bankruptcy protection.
Go First, owned by the Wadia Group and formerly known as GoAir, said on its website that it had cancelled flights scheduled for May 3 to May 5 due to "operational reasons".
This marks the first major airline Go First in the country to file for bankruptcy since Jet Airways went bankrupt in 2019. It also highlights the competitive nature of the Indian airline industry, which is dominated by IndiGo and recent merger of Air India and Vistara under the Tata conglomerate.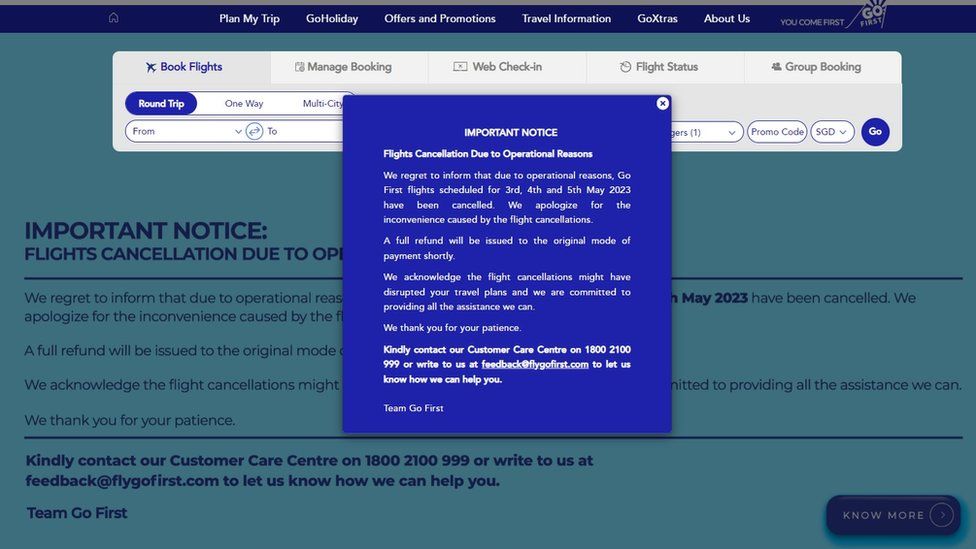 Angry passengers
Go First's social media feeds were flooded with angry messages from passengers. Many complained that their tickets were cancelled "at the last minute". Others cited emergencies they had to tend to. To all queries, the airline said the flights were cancelled "due to unforeseen technical difficulties which are beyond our control".
Reportedly, the airlines had defaulted on payments to operational creditors, including INR 12.02 billion to vendors and INR 26.60 billion to aircraft lessors.
However, Go First cited US engine manufacturer Pratt & Whitney for previously grounding many of its planes, which it says caused a severe cash flow problem.
Go First accuses Pratt & Whitney
The company blamed its failure on the ever-increasing number of failing engines supplied by Pratt & Whitney, resulting in the grounding of 25 aircraft, about half of its fleet of Airbus A320neo planes. It caused about $1.3bn revenue losses and expenses.
Go First accused Pratt & Whitney of not following an order by an emergency arbitrator, which included supplying "at least 10 serviceable spare leased engines by 27 April 2023".
In response, Pratt & Whitney said it was "complying with the March 2023 arbitration ruling" and it cannot comment further as "this is now a matter of litigation".
The collapse of Go First, which is owned by Indian conglomerate Wadia Group, underscores the fierce competition in the country's airline sector. In November, India's second and third-largest carriers – Air India and Vistara – announced that they planned to merge.
A 'boost' for rivals
The bankruptcy filing is expected to give a boost to rival airlines such as Indigo, Air India, SpiceJet, and new entrants like Akasa Air to grab a larger share of the market.
However, engine and aircraft supply chain issues are affecting other airlines in the country, say industry experts.
According to data from aviation analytics firm Cirium, 102 commercial aircraft are grounded in India. They include 60 planes of Go First and rival Indigo that are grounded due to a lack of spare parts.
The collapse could boost rival airlines as the industry tries to meet a surge in post-pandemic air travel.