Pakistan's mountaineer Naila Kiani on Sunday etched her name in the chronicles of history as she scaled the top of Mount Everest. Naila's remarkable achievement makes her the second woman from Pakistan to complete this extraordinary expedition.
The first female mountaineer from Pakistan to summit the peak is Samina Baig, who achieved the feat back in 2013.
Naila Kiani added another feather to her cap as she became the first non-Nepalese climber to scale Mount Everest this mountaineering season.
The mountaineer reached the pinnacle of the world's highest mountain, scaling up to 8,849 metres, at 8:02 am on Sunday, marking a significant milestone in her mountaineering journey.
Naila's determination and unwavering spirit drove her to conquer the world's highest peak located in the Mahalangur Himal sub-range of the Himalayas, becoming the first woman climber to reach the summit in 2023.
Naila Kiani — a mother of two, a boxer, and a banker in Dubai — is the only Pakistani woman to scale five eight-thousanders. They include Mount Everest — incredibly within a span of two years. Before this, she climbed Annapurna I in Nepal, K2, Gasherbrum I, and II.
She is now aiming to scale 8,516m high Lhotse, the fourth tallest mountain in her current visit to Nepal. Kiani had first gained prominence in 2018 after the images of her wedding photoshoot at K2 Basecamp went viral on social media.
Pakistani mountaineers rescued from Mount Annapurna
Naila Kiani was among the two Pakistani mountaineers who had been rescued on their way down to Mount Annapurna last month. She was accompanied by the world's youngest mountaineer Shehroze Kashif on their ascent to 8,091m high peak located in Nepal.
A day after reaching the mountain top, the two climbers were rescued from the peak after their descent was disrupted due to bad weather.
With her ascent to Annapurna, Kiani became the first woman from a South Asian country to achieve the feat.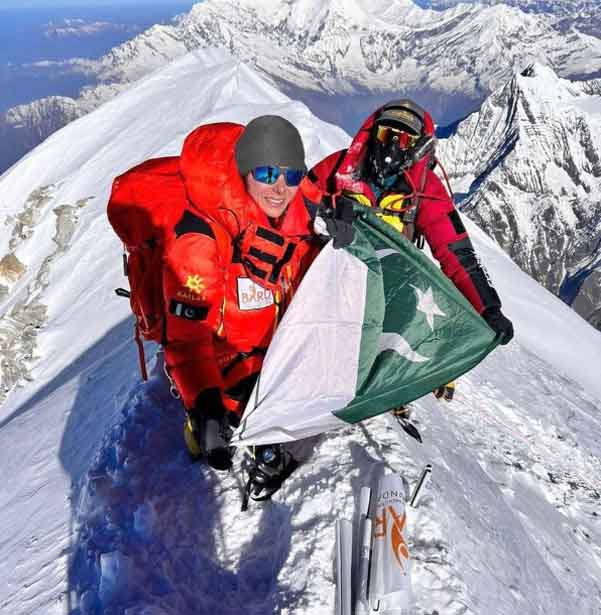 A picture of Naila Kiyani and Shehroze Kashif on the top of Annapurna I. —Instagram/@naila._.kiyani
Indomitable spirit
Prior to her triumphant Everest ascent, Naila had already conquered Annapurna I, the tenth-highest peak in the world, setting a new record. This Dubai-based banker is not only an avid mountaineer but also a trained boxer, rock climber, and enthusiast of recreational running. In interviews, Naila has expressed her desire to portray a positive image of Pakistan through her adventurous pursuits.
Her passion for adventure previously led her to summit Gasherbrum-II, the world's 13th-highest mountain, in 2021, followed by an ascent of K2, the world's second-tallest mountain, in the preceding year. Naila Kiani's incredible accomplishments serve as an inspiration to all and showcase the indomitable spirit of Pakistani mountaineering on the world stage.
Social Media erupts with congrats
Twitter erupted with congratulations and accolades for Naila, recognizing her historic feat as the first Pakistani woman to complete five peaks above 8,000 meters.
Naila's official Facebook page shared a post celebrating her achievement, proclaiming her as the "1st International Climber to summit Everest in 2023."
The post expressed admiration for her dedication, strength, and perseverance, hailing her as the leading Pakistani woman mountaineer in the 8,000m+ category.
It acknowledged Naila's accomplishment as a testament to the indomitable human spirit, expressing pride and prayers for her safe descent. The post also expressed gratitude to sponsors whose financial support made this extraordinary journey possible.