Violent protesters put the building of Radio Pakistan in Peshawar on fire as Pakistan's former prime minister Imran Khan appeared before a judge, a day after his arrest on corruption charges sparked nationwide protests.
A violent mob broke down the gate of Radio Pakistan and entered the building, and set it on fire and thick black smoke rose from the historic building.
As many as 30 people were reportedly injured in clashes with security personnel. Nearly 1,000 people have been arrested since Imran Khan was held in Islamabad on corruption charges which he denies.
There is tight security at the police guesthouse where he has been detained, as the place is serving as a courtroom.
Countrywide clashes
PTI continues to protest against Imran Khan's arrest as Punjab and Khyber Pakhtunkhwa governments seek the Pakistan army deployment in both provinces. At least two people died in violent protests that broke out in several cities across Pakistan following his arrest on Tuesday.
Clashes were reported in Islamabad, Lahore, Peshawar, Quetta, and Karachi. In Peshawar, the assailants broke down the gate of the Radio Pakistan and entered the building. The protesters reportedly wreaked havoc in the newsroom and various sections and set the building on fire.
The arrest escalated a political battle between Khan and Pakistan's powerful military.
Conviction would disqualify him from standing for election.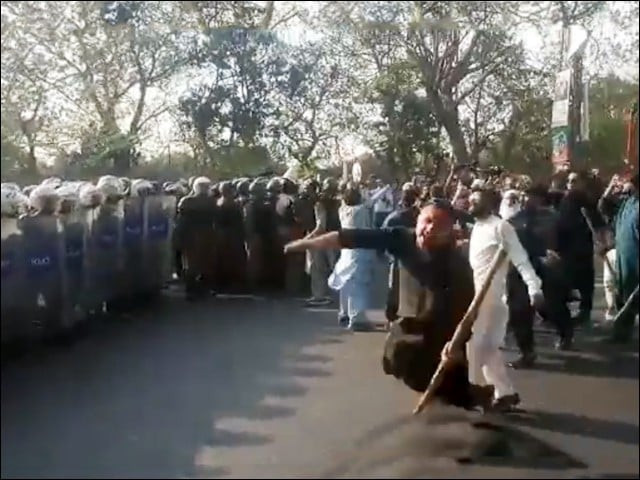 No internet services
The government has already suspended internet services across the country, as PTI workers took to the streets to protest the arrest of Imran Khan.
People from across the country also said they were facing difficulties in accessing social media platforms as well.
Some mobile internet services remain inaccessible across the country. Pakistan's telecommunication authorities said they had suspended services on instructions from the interior ministry.
The former international cricket star, 70, was ousted last April, less than four years into his term as prime minister.
In November, he was shot in the leg while campaigning among crowds in the city of Wazirabad.
He has accused a senior intelligence official of carrying out the attack – an accusation strongly denied by the military in recent days. A day before his arrest, the military had warned Khan against repeating the allegation.
Imran faces dozens of charges
Imran Khan is now facing dozens of charges relating to corruption and sedition, which he says are politically motivated. Until Tuesday, he had managed to evade arrest several times by refusing to show up to court hearings.
His supporters argue that the current Pakistan government has brought these charges against Mr Khan in a bid to bar him from contesting in general elections due in October. Mr Khan had been campaigning across the country for the poll to be held earlier.
"Imran Khan will face the law, if innocent, [he] can contest the election. But if found guilty of corruption, he will have to face the consequence of that," Minister of Planning Ahsan Iqbal said in a press conference on Wednesday.
Party workers arrests
Police have carried out raids and arrested supporters of Khan's party in the hours since his detention.
Asad Umar, the secretary-general of Khan's Pakistan Tehreek-e-Insaf (PTI) party, was among those arrested.
Almost 1,000 people were also arrested in Punjab province after protests there on Tuesday night, police said.
Pictures early on Wednesday local time showed lines of officers forming in front of the police guest house in the capital Islamabad.
PTI said Khan had not had access to legal counsel, and that the party would challenge the legality of his being arrested in a court room.
They also claim the arrest by Punjab Rangers, a paramilitary force, and within court premises was illegal. However, Islamabad's High Court declared the arrest legal on Tuesday.
Schools also remain closed, some highways have been blocked and there is little traffic plying roads in major cities.
Khan's supporters on Tuesday ransacked the corps commander's residence in Lahore, making away with peacocks – among other things – they said were bought with "citizen's money".