At least one person was reported killed in clashes between protesters and the military in Quetta, the capital of Baluchistan province, with another five people wounded there, while about 15 injuries were reported amid similar violence in Karachi, Peshawar, Rawalpindi and Lahore. Violent protests have gripped the country after the arrest of former PM and PTI Chairman Imran Khan. 
Pakistan Tehrik-e-Insaf (PTI) supporters immediately took to the streets in Islamabad and other parts of the country to protest the arrest of former Prime Minister and party chairman Imran Khan. Police in Islamabad dispersed protesters and detained dozens of them in the process.
Khan was taken to the garrison city of Rawalpindi, near Islamabad, for questioning at the offices of the National Accountability Bureau, according to police and government officials. He also was to undergo a routine medical checkup, police said.
"Imran Khan has been arrested because he was being sought in a graft case," Interior Minister Rana Sanaullah Khan told a news conference. He alleged Pakistan's treasury had lost millions of dollars while Khan was in office due to illegal purchases of lands worth billions from country's top and influential business tycoon Riaz Malik- the owner of Bahria Town.
Protesters and eyewitnesses reported firing by security forces at men and women outside army and Inter-Services Intelligence (ISI) installations in several cities, injuring many protesters.
A large number of Khan supporters gathered outside the military headquarters in Rawalpindi and chanted slogans against the army, something that has not been seen in the recent history of Pakistan.
Amid the violence, officials at Pakistan's telecommunication authority said regulators blocked social media, including Twitter, and internet service was suspended in the capital of Islamabad and other cities. Classes at some private schools were canceled for Wednesday.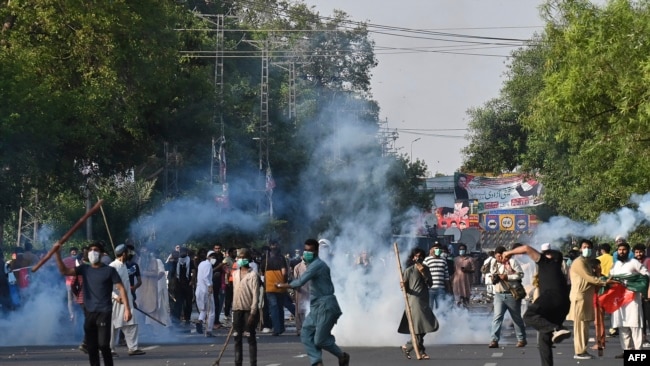 Authorities in Lahore deployed paramilitary forces to assist police in controlling the situation after protesters assaulted the residence of the regional military corps commander.
Angry protests and demonstrations also erupted across the Khyber Pakhtunkhwa province abutting Afghanistan.
Imran Khan's arrest, by Rangers officials who reportedly carried arrest warrants, took place a little after 2 p.m. on Tuesday when Khan entered the building of the IHC. Khan was then taken away in a vehicle.
"I'm mentally ready to be arrested," Khan had said in a video message to supporters before he left Lahore for Islamabad.
"Imran Khan has been whisked away by unknown people to an unknown location," said Fawad Chaudhry, senior leader of Khan's Pakistan Tehreek-e-Insaf Party.
There was a complete media blackout of the protests on dozens of local news channels in and around Islamabad. The violence prompted authorities to immediately ban all gatherings in major cities.
Adam Weinstein, a researcher at Washington's Quincy Institute, said, "The arrest of Imran Khan takes an already escalating political firestorm & douses it with petrol as the nation inches off an economic cliff."
"It will harden negative views toward the military & PDM and unleash chaos in the streets. But it is also a blow to IK," he wrote on Twitter.
The arrest came just hours after Khan added new details to his allegation that a senior general within the Pakistani military spy agency, the Inter-Services Intelligence or ISI, is plotting to kill him.
The opposition leader warned such an eventuality could plunge the South Asian nation of about 220 million people into a turmoil worse than Sri Lanka's political unrest last year.
The head of his Pakistan Tehreek-e-Insaf (PTI) party first made the claims in a video statement a day after the powerful military warned Khan against making what it condemned as "fabricated and malicious" allegations.
Khan was injured in an assassination attempt last November while leading an anti-government protest march near Lahore, the capital of Punjab, Pakistan's most populous province. The attack killed one person, while the PTI chief received bullet wounds in his legs.
Khan accused ISI's Major-General Faisal Naseer of being one of the planners of the assassination attempt.
Government officials have said the assassination attempt was the work of a lone gunman, who is now in custody and confessed in a video controversially leaked to the media.
At a news conference, Law Minister Azam Tarar said Khan was arrested because he was not cooperating with the investigations. He also denounced the violence by Khan supporters, saying that protests must remain peaceful.
"It should have not happened," he said, shortly after TV video emerged of burning vehicles and damaged public property in parts of the country.
Former prime minister Khan was removed from office in a parliamentary vote of no-confidence in April 2022, a move he rejected as illegal and orchestrated by the now-retired chief of the Pakistani military, General Qamar Javed Bajwa.
More than 100 cases have been registered against Khan in various courts in the country, with charges ranging from corruption to terrorism and sedition, following the politician's ousting from power in a parliamentary no-trust vote last April.
Khan says the cases are politically motivated to crack down on his Tehreek-e-Insaf Party, arguably the most popular in the country. Many senior Khan aides have had cases registered against them in recent months and been arrested.
The fresh political crisis comes as Pakistan and the International Monetary Fund are in talks aimed at resuming stalled funding of $1.1 billion due in November from a $6.5 billion program agreed in 2019. The measures have fueled the country's highest-ever inflation, some 36.4 percent in April.
The IMF funding is crucial for Pakistan to avert default on its external payment obligations during a balance of payment crisis in which foreign exchange reserves have shrunk to just four weeks of controlled imports.
Khan's arrest also comes in the wake of the army's warning about legal action over accusations by Khan that a serving military official, Maj. Gen. Faisal Naseer, was plotting to kill him.